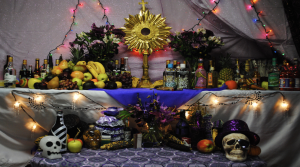 PROGRAM NOTES
Vodou is a major part of Haitian society. As a religion, Vodou dates back 10,000 years, coming to Haiti from West Africa with slaves in the 17th century. Forbidden to practice animistic religion, the slaves were forced to accept the Catholic Church, so they disguised their beliefs in Catholic Saints. Vodou is a belief system and religion like many others. Vodou followers believe in one supreme being called Grand Master but have lesser gods who are sought for guidance. These lesser gods, or loas, are spirits of ancestors, animals, natural forces and the spirits of good and evil. These gods are divided into nations to include Rada, Nago, Djouba, Petwo, Kongo, Ibo and Gede. Each nation has its own music.
Within the practice of the religion, there is a priesthood of both men and women, Houngans and Mambos, who provide healing, rituals, ceremonies to call or pacify the spirits, hold initiations for new priests or priestesses, tell fortunes, read dreams, cast spells, and invoke protections for their congregations. Vodou is practiced by 80 million people worldwide. The music of Vodou permeates the Haitian society. Vodou followers believe that humans live side-by-side with the spirits. During the ceremonies, to honor and commune with the spirits, the followers chant, dance, offer prayers and perform certain rites. Thus, music has become an integral part of Vodou with each song having a specific meaning in the religion.
The music content of this program comes from the album Prepare by Frisner Augustin, a Haitian Master drummer with Makandal, a dance troupe in New York. The album liner notes have been contributed by Dr. Lois Wilcken, executive director of Makandal.
ABOUT THE ARTISTS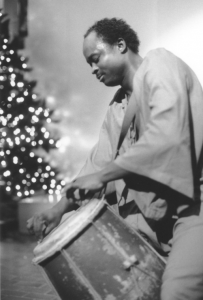 (Photo courtesy of Makandal's Facebook account)
Frisner Augustin
Frisner Augustin was a master Haitian Vodou drummer who resided in New York for much of his life.  Born in Port-au-Prince, Augustin is the only Haitian to ever win a National Heritage Fellowship from the National Endowment of the Arts.  He died on February 28, 2012 while participating in the International Jazz Festival of Port-au-Prince one day shy of his 64th birthday.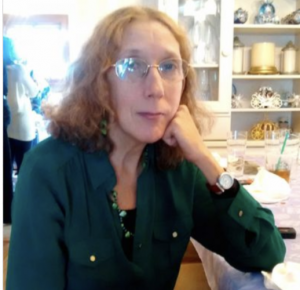 (Photo courtesy of Columbia University's Music Department)
Lois Wilcken
Lois Wilcken has spent much of her professional career researching traditional Haitian music and dances.  She leads programs for La Troupe Makandal in New York City, with many focused around the life and works of Frisner Augustin.  She is an esteemed lecturer on Haitian culture, and has authored two books on the subject (1992's The Drums of Vodou and 1998's Island Sounds in the Global City).
ABOUT THE GUEST NARRATOR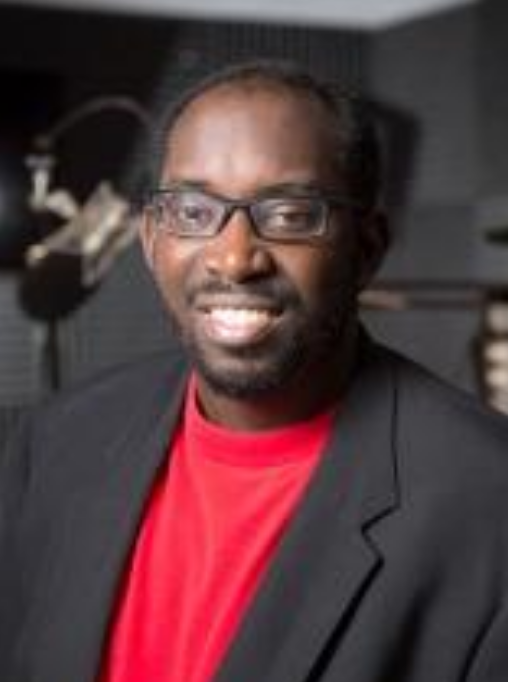 (Photo Courtesy of WUGA-FM)
Sean Polite
Sean Polite is a weekend host for 91.7 and 94.5 WUGA FM, the Athens area NPR station.  In addition to his work in radio, Sean is also a well-regarded voiceover artist.
MUSIC & CREDITS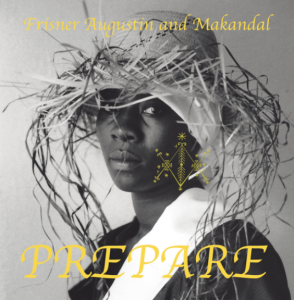 Much of the music from this program comes from Frisner Augustin and Makandal's 2004 album Prepare.  The track listing is as follows:
1. Prepare
2. Rele Ountò
3. Kouzen O
4. Aochè Nago
5. Afoutayi
6. Papa Danbala
7. Swa Kongo
For information on purchasing the album, please click here.
CREDITS
Prepare
Frisner Augustin – lead drum, bell, lead and background vocals
Rozna Zila – lead and background vocals
Steve Deats – second drum, conch shell and background vocals
Marc Etienne – third drum, bass drum, second drum, bell and background vocals
Guy de Chalus – third drum, bell, background vocals
Kesler Pierre – bass drum, bell, conch shell
Sandy St. Cyr – lead and background vocals
Smith Destin, Grann Nanna – background vocals
Donald Etienne – background vocals
Lois Wilcken – background vocals
Frisner Augustin, Steve Deats – producers
Joe Q – mixing

Caribbean Voices
Sean Polite – narrator of album notes
Kane Stanley – audio engineer
John Slights – technical assistance
Leara Rhodes – host